DHM Surf Camp Lombok
Explore, surf and discover the beautiful island of Lombok, Indonesia.
February Valentine Special
Your Romantic Getaway for February
Experience the comfort of DHM surf camps in South Lombok
Have the time of your life, build a healthy body, relax your mind and connect with nature.
Surf trips are all about the experience. The adrenaline of surfing, a beautiful destination and being immersed in a new culture are what the DHM surf school offers you in Lombok.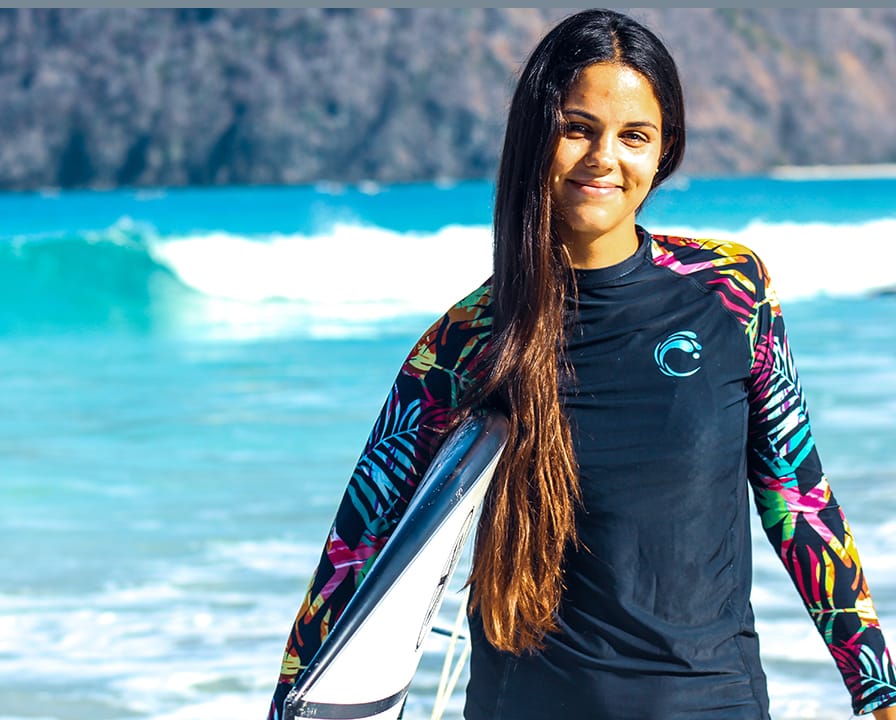 We had such an amazing experience with DHM surf camps. The place was beautiful, the instructors were lovely and the surf was awesome.

We had such an amazing experience with DHM surf camps. The place was beautiful, the instructors were lovely and the surf was awesome.

The key to success in life is happiness and attitude. This is the added value that DHM offers its visitors beyond the service it provides.

Surfing is like making love, it always feels good no matter how many times you've done it

Professional Hawaiian surfer
Knowledge, Hospitality & Expertise
Whatever your surfing level, our camp will make sure you get the best waves of your life in Kuta, Lombok.
We have extensive surfing knowledge and expertise in hospitality. We want to share our love of the ocean with you. Regardless of your previous surfing experience, we'll take you on a surfing adventure you'll never forget.
What's Included?
All packages with DHM surf camp South Lombok can include the following.
Please contact us if you have any special requests.








Packages
Above all, our surf camp will entertain you from the minute you arrive in Lombok until the moment you leave. Take a look at our competitive priced surf packages!
Easy Surf

3 Day Package
Ideal for beginners and intermediate level surfers
Surf Addict

5 Day Package
Ideal for beginners and intermediate level surfers
Sandy Pack Camping
Our surf camping trips in Indonesia are ideal for surfers of any level and for non surfers
Boat to Go Package
Perfect for anyone who wants a different surf experience in Lombok by boat
Surf Boards for Rent
Your style, we have it. We work with high class boards only
Surf Lessons Lombok
Perfect for those Lombok visitors who want to enjoy DHM school's surf lessons or surf all day long
DHM Lombok Surf School Squad
Meet our instructors and staff of DHM Surf & Stay. Together the camp will make sure you have the best time at the best surf spots in Lombok.
Pak Nawi
He will be ready to pick you up from Lombok airport to bring you to our lovely surf school.
Wasil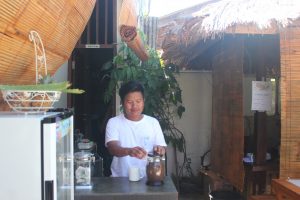 When he's around he's always ready to serve you. He can make good Lombok coffee and the famous 'Kuta Banana Pancake' for breakfast. Like this, we make sure that you have the energy to join our surf lessons
around the South coast of Lombok.
Javier
Extraordinary surf instructor to those who need special attention during their lessons in Lombok. This South-American surfer is always willing to guide you!
Lui
Lui is our youngest surf instructor. Born on a surfboard and full of energy, he is able to make you feel comfortable in the water in any condition.
'John John' Ngosta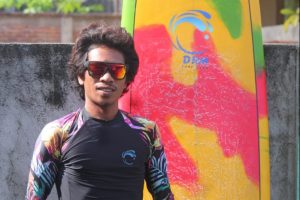 Ngosta learned to surf as a little boy using a piece of plywood. Ngos was part of the old school surf in the 90's in Kuta, Lombok, along with three friends. more
He has participated in many local surf competitions and various international surf competitions in Bali, Lombok and Sumbawa. Meanwhile, he has been inspiring a new generation to become surfers. Before, he was the owner of Gloro surf school. Today, this legend is ready to inspire you to pick up a surfboard and discover the waves with DHM surf camp!
Arvian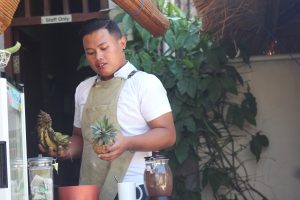 He listens to the name 'Bude' and is our lovely chef at the DHM kitchen. Not only you will love his amazing cooking skills, your friends back home will love you once you learn from this chef!
Sari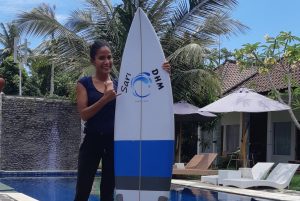 With her Indonesian softness and her German work attic, she will make sure that you enjoy your holiday in South Lombok at DHM surf camp. Whether you live at DHM surf & stay, join our school, or just rent our boards, she will make it great.
Our Little Poo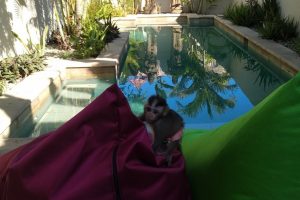 Lastly, our cheeky baby monkey will entertain you whenever you're not in the water. Straight outta Lombok, this monkey was rescued from the gruesome dangers as a lonely baby. If you're lucky, you can spot her around our surf camp in Lombok.
Video of Our Surf Camp in Lombok