DHM Surf Camp Lombok
Explore, surf and discover the beautiful island of Lombok, Indonesia.
"COVID" SPECIAL DEAL
CHOOSE SURF CAMP OR SINGLE LESSONS.

BOOK NOW, SAVE MONEY AND GET YOUR SPECIAL COVID DEAL, YOU CAN USE YOUR BOOKING ANYTIME NEXT YEAR
5 days / 6 nights package
Private accommodation Incl.
Single Private Lesson
Gear & transportation included
SURF CAMP: € 350 Euros per surfer
SURF LESSON: Rp 350.000 IDR per person
Experience the comfort of DHM surf camps in South Lombok
Have the time of your life, build a healthy body, relax your mind and connect with nature.
Surf trips are all about the experience. The adrenaline of surfing, a beautiful destination and being immersed in a new culture are what the DHM surf school offers you in Lombok. Furthermore, we offer Maximum Value Packages at Competitive prices.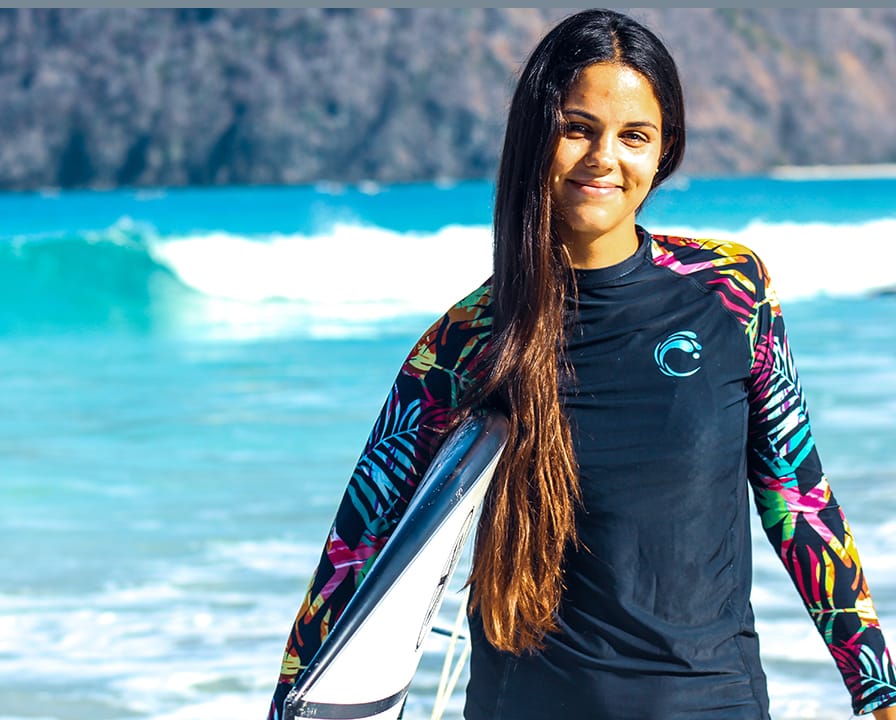 Knowledge, Hospitality & Expertise
Whatever your surfing level, our camp will make sure you get the best waves of your life in Kuta, Lombok.
We have extensive surfing knowledge and expertise in hospitality. DHM wants to share the love for the ocean with you. Regardless of your previous surfing experience, we'll take you on a surfing adventure you'll never forget.
What's Included?
All packages with DHM surf camp South Lombok can include the following.
Please contact us if you have any special requests.







Packages
Above all, our surf camp will entertain you from the minute you arrive in Lombok until the moment you leave. Our surf camp packages give the best value for money. Not only two surf lessons a day, but also lots of add-ons. Take a look at our attractive surf packages!
Easy Surf

3 Day Package
Ideal for beginners and intermediate level surfers
Surf Addict

5 Day Package
Suitable for all level. Available on fixed and flexible dates
Sandy Pack Camping
Our surf camping trips in Indonesia are ideal for surfers of any level and for non surfers
Boat to Go Package
Perfect for anyone who wants a different surf experience in Lombok by boat
Surf Boards for Rent
Your style, we have it. We work with high class boards only
Surf Lessons Lombok
Perfect for those Lombok visitors who want to enjoy DHM school's surf lessons or surf all day long
DHM Lombok Surf School Squad
Meet our instructors and staff of DHM Surf & Stay. Together the camp will make sure you have the best time at the best surf spots in Lombok.
Pak Nawi
He will be ready to pick you up from Lombok airport to bring you to our lovely surf school.
Wasil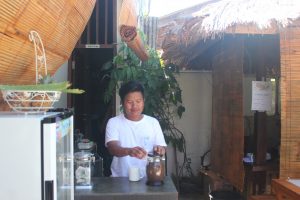 When he's around he's always ready to serve you. For example, he can make good Lombok coffee and the famous 'Kuta Banana Pancake' for breakfast. Like this, we make sure that you have the energy to join our surf lessons
around the South coast of Lombok.
Javier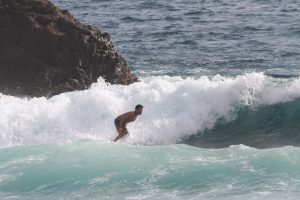 Extraordinary surf instructor to those who need special attention during their lessons in Lombok. This South-American surfer is always willing to guide you!
Amet
Amet is a young surfer from Lombok and one of our surf instructors. He has participated in local surf competitions in Lombok. He has plenty of motivation and knowledge to share, along with his charisma and energy, he will make you feel comfortable, safe and confident in the water in any condition.
'John John' Ngosta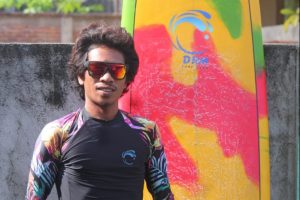 Ngosta learned to surf as a little boy using a piece of plywood. Back then, he was part of the old school surf in the 90's in Kuta, Lombok, along with three friends. more
He has participated in many local surf competitions and various international surf competitions in Bali, Lombok and Sumbawa. Meanwhile, he has been inspiring a new generation to become surfers. Before, he was the owner of Gloro surf school. Today, this legend is ready to inspire you to pick up a surfboard and discover the waves with DHM surf camp!
Arvian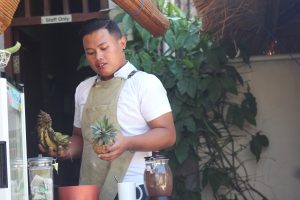 He listens to the name 'Bude' and is our lovely chef at the DHM kitchen. As a matter of fact, not only you will love his amazing cooking skills, your friends back home will love you once you learn from this chef!
Sari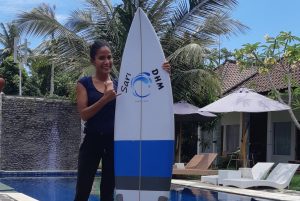 With her Indonesian softness and her German work attic, she will make sure that you enjoy your holiday in South Lombok at DHM surf camp. Whether you live at DHM surf & stay, join our school, or just rent our boards, she will make it great.
Dandy
Dandy is our youngest surf instructor and latest addition to our Lombok surf school. However, he already has more than 10 years of surf experience. He seems shy on the land, but dominates the water. So, get a surf lesson with Dandy and he will make sure you enjoy the waves of Lombok.
Our Little Poo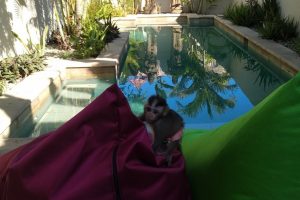 Lastly, our cheeky baby monkey will entertain you whenever you're not in the water. Straight outta Lombok, this monkey was rescued from the gruesome dangers as a lonely baby. If you're lucky, you can spot her around our surf camp in Lombok.
Loved my stay here!! The instructors are great whether you're beginner or intermediate. The boards were fantastic, the best I could find in Kuta. Just overall good vibes. Sari the owner is kind and caring. She's got a little helper named Poopy (baby monkey) who is awesome to play with. Centrally located…Dorm beds and privates! Check it out!!
Cameron
My friend and I were at DHM from Jan.18-Jan.24, 2020. We enjoyed our stay very much. Javier and Sari are great hosts and they also know how to enjoy life. The staff was excellent and people like Arvian are super nice, going the extra mile to make you feel right at home. The surf options were good and transport was made easy. There are favorable breaks for all skill levels. Excursions for other activities can be organized as well. We would highly recommend DHM surf camp!
Kirk
The hostel is well located in the center of Kuta Lombok and you can reach all great surf spots from there very easy. If you need to rent a board you can get high quality boards right at the hostel for a good price. No matter what kind of question or problem you have the owner Sari and Javi will try their best to help you. They helped me find the best surf spots, gave me tips on other leisure activities in lombok and always made sure that I enjoy my stay to the fullest. read more

I also needed to get a X Ray in Mataram during my stay and they drove me down there and helped me to find a good hospital to get it done. The surf instructors Lui and Briy are the most patient and passionated instructors I have ever met.( it has been my 4th camp experience, so I met a few instructors already). They take their time to explain the mistakes you make and teach you how to get better, encourage you to overcome your fear of big waves without pushing you too much and always make sure that you are save while you are in the water. Photo analysis and body work outs at the camp after surf lessons helps you to become stronger and better in surfing, no matter if you are a beginner, intermediate or advanced surfer. The team is summed up by Wasil and Bude, who take care you have everything you need at the Camp. For instance, they will prepare breakfast for you at any time of the day and will provide you with everything you need during your stay. BBQs and cooking classes are prepared by them, as well as the other team members. Those are fun and a great gathering to connect with your surf mates at camp and your surf instructors. The rooms at the camp are very clean, have a great bathroom and a nice (hot!) outdoor shower. Altogether, I can highly recommend staying at DHM surf school. No matter how long you will stay, you will walk in as a stranger and leave as a friend. Hospitality is big at this place and the team is amazing. I will definitely stay at DHM surf camp again on my next trip to Indonesia.
Jacky
We were advised by some friends to book accommodation and surf lessons with you. And we were incredibly well treated. The room was clean and comfortable. The staff were very friendly and helpful. The surf lessons were really good. Incredibly knowledgeable instructors. We miss you already and we will definitely visit you again. Erik and Sara
Erik & Sara
My husband & I had the most relaxing & fun times at DHM surf camp. We were welcome with a nice sign at the airport upon arrival. Her staff were very friendly, helpful & fun group. We get to watch beautiful sunrise & sunsets at different locations. My husband enjoyed his surfing times while since I'm not a surfer, I spent alot of my times at the pool & Sari & her staff took me to a few beautiful beaches. We can't wait to go back there again.
Rosy Sokol
The hospitality at DHM is some of the best I have seen travelling throughout Asia. The staff are committed to not only ensuring you make progress in your surfing, but also that you have an enjoyable experience outside of the water. The location is also super central, close to shops and night life which means it's suitable for solo travelers. Highly recommend
Zachary Lam
Video of Our Surf Camp in Lombok