DHM Surf Camp Lombok
Explore, surf and discover the beautiful island of Lombok, Indonesia.
COUPLES SURF PROMO

625 EUROS/ PAX
1 WEEK INTENSIVE SURF CAMP AT A SUPER CONVENIENCE PRICE.

BOOK NOW, SAVE MONEY AND COME ANYTIME
6 days / 7 nights
Surf Addict Package
Private Room
€ 625 Euros per surfer
2 Persons minimum
2 Lessons per day
Gear & transportation Incl.
Experience the comfort of DHM surf camps in South Lombok
Have the time of your life, build a healthy body, relax your mind and connect with nature.
Surf trips are all about the experience. Thus, the adrenaline of surfing, a beautiful destination and being immersed in a new culture are what the DHM surf school offers you in Lombok. Furthermore, we offer Maximum Value Packages at Competitive prices.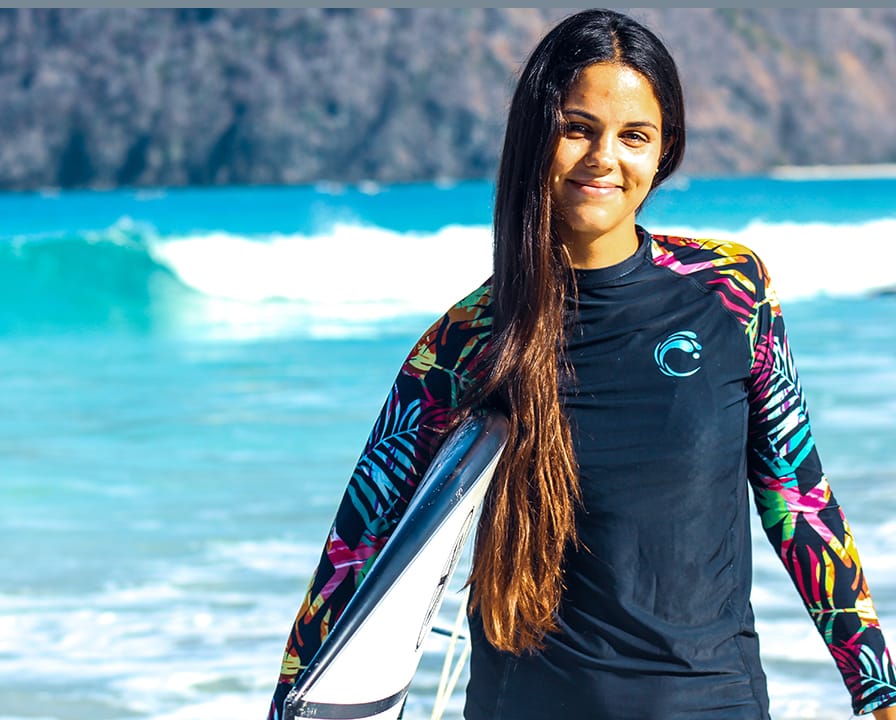 Packages
Above all, our surf camp will entertain you from the minute you arrive in Lombok until the moment you leave. Our surf camp packages give the best value for money. Not only two surf lessons a day, but also lots of add-ons. Thus, take a look at our attractive surf packages!
Easy Surf

4 Days

5 Nights
Ideal for beginners and intermediate level surfers
Surf Addict

6 Days

7 Nights
Suitable for all level. Available on fixed and flexible dates
Kids Surf Package
Suitable for kids from 7 years old and above
Surf Lessons Lombok
Perfect for those Lombok visitors who want to learn and enjoy a surf lesson or surf guiding
What Includes?
All packages with DHM surf camp South Lombok can include the following.
Please contact us if you have any special requests.






DHM Lombok Surf School Squad
Meet our instructors and staff of DHM Surf Camp. Together, the camp will make sure you have the best time at the best surf spots in Lombok.
Jon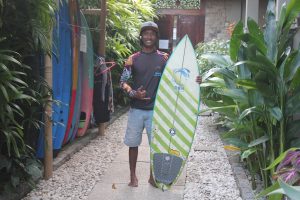 Jon is a top coach for beginners who are learning to catch their first waves and for those intermediates who wants to improve some skills and do maneuvers. This great instructor will guide you through the busy and non-busy peaks to ride the best waves ever.
Wasil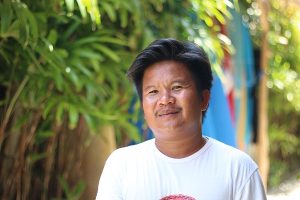 When he's around he's always ready to serve you. For example, he can make good Lombok coffee and the famous 'Kuta Banana Pancake' for breakfast. Like this, we make sure that you have the energy to join our surf lessons around the South coast of Lombok.
Javier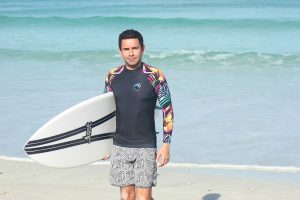 Extraordinary surf instructor  to those who need special attention during their lessons in Lombok. This South-American surfer also known as "Javi" is always willing to guide you!
Oboy
Oboy is an experienced surfer from Lombok full of motivation, charisma and energy. He has being part of several surf schools before and in local surf competitions in Lombok. more
Moreover, with his vast background, he always know where to find the perfect waves for our guests and make them feel comfortable, safe and confident in the water.
'Banana'
The charismatic charactor known as "Banana" is a dedicated and experienced instructor. One of the Lombok old school surfers. Back then, he was part of an old surf school in the 90's in Kuta, Lombok. Meanwhile, he has been inspiring a new generation to become surfers. more
Furthermore, his charismatic and unique personality will cheer you up and inspire you to pick up a surfboard and discover the waves with DHM surf camp!
Desta
Desta is a loyal and committed coach who started since the beginnings of DHM Surf Camp. In addition, he is a great boat captain and  an authentic Lombok fisherman. Not only you will love his teaching skills, but also the way he sails the boat when we go out surfing and his daily catches
Sari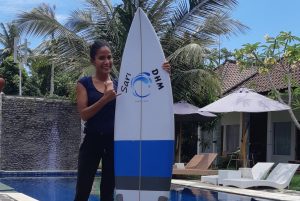 With her Indonesian softness and her German work attic, she will make sure that you enjoy your holiday in South Lombok at DHM surf camp villa. Whether you stay in our camp or just join some of our sessions, she will make it great.
Uda
Uda is an experienced and our top youngest surf coach of our Lombok surf school with more than 10 years of surf experience. He is very dedicated and professional when teaching, dominating the knowledge of being in the water. So, feel lucky when Uda is your instructor cause you will learn his techniques and he will make sure you enjoy your experience of surfing the waves of Lombok.
Martin
Excellent and dedicated coach for beginner and intermediate surfers. With his emphaty and awesome vibe, you will feel confident when being in the peak catching those waves. In addition, you will receive proper feedback that will surely improve those unwanted fails and boost your performance in the water.
Rama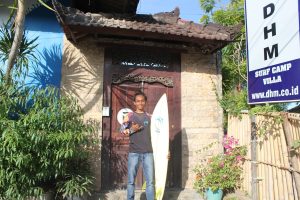 Rama is the most wanted instructor among kids because of his dedication and great sense of humor. Nevertheless you are a kid, a beginner or an advance surfer,  you will have a great time in the water surfing and enjoying every session while learning those tips that will make you improve.
Jenny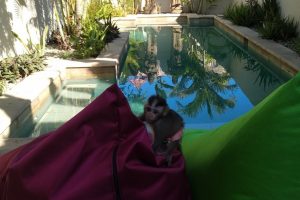 Lastly, our cheeky baby monkey will entertain you whenever you're not in the water. Straight outta Lombok, this monkey was rescued from the gruesome dangers as a lonely baby. If you're lucky, you can spot her around our surf camp in Lombok.
Loved my stay here!! The instructors are great whether you're beginner or intermediate. The boards were fantastic, the best I could find in Kuta. Just overall good vibes. Sari the owner is kind and caring. She's got a little helper named Poopy (baby monkey) who is awesome to play with. Centrally located…Dorm beds and privates! Check it out!!
Cameron
My friend and I were at DHM from Jan.18-Jan.24, 2020. We enjoyed our stay very much. Javier and Sari are great hosts and they also know how to enjoy life. The staff was excellent and people like Arvian are super nice, going the extra mile to make you feel right at home. The surf options were good and transport was made easy. There are favorable breaks for all skill levels. Excursions for other activities can be organized as well. We would highly recommend DHM surf camp!
Kirk
DHM Surf Camp is well located in the center of Kuta Lombok and you can reach all great surf spots from there very easy. If you need to rent a board you can get high quality boards right at the hostel for a good price. Moreover, the owners Sari and Javi will try their best to help you. They helped me find the best surf spots, gave me tips on other leisure activities in lombok and always made sure that I enjoy my stay to the fullest. read more

Lastly, the rooms at the camp are very clean, have a great bathroom and a nice (hot!) outdoor shower. Altogether, I can highly recommend staying at DHM. No matter how long you will stay, you will walk in as a stranger and leave as a friend. Hospitality is big at this place and the team is amazing. I will definitely stay at DHM surf camp again on my next trip to Indonesia.
Jacky
We were advised by some friends to book accommodation and surf lessons with you and we were incredibly well treated. The room was clean and comfortable and the staff were very friendly and helpful. Additionally, the surf lessons were really good with incredibly knowledgeable instructors. We miss you already and we will definitely visit you again.
Erik & Sara
My husband & I had the most relaxing & fun times at DHM surf camp. We were welcome with a nice sign at the airport upon arrival. Staff were very friendly, helpful & fun group. In addition, we get to watch beautiful sunrise & sunsets at different locations. Plus, my husband enjoyed his surfing times while since I'm not a surfer, I spent alot of my times at the pool & Sari & her staff took me to a few beautiful beaches. Hence, we can't wait to go back there again.
Rosy Sokol
The hospitality at DHM is some of the best I have seen travelling throughout Asia. The staff are committed to not only ensuring you make progress in your surfing, but also that you have an enjoyable experience outside of the water. As an advantage, the location is also super central, close to shops and night life which means it's suitable for solo travelers. Highly recommend
Zachary Lam
Video of Our Surf Camp in Lombok